Linko Pumpout Manifest Portal – POM Portal
Reduce inspections through
electronic pumpout manifests
Linko's Pumpout Manifest (POM) Portal is designed for FOG Programs who want to focus their limited resources on Facilities who are not cleaning their grease abatement devices as required, exceed 25% rules or have devices in need of repair.
POM Portal provides a solution for gathering electronic pumpout manifests from Facilities or Haulers thereby eliminating manual data entry of manifests by FOG Program staff and for automatically emailing reminders as well as scheduling pumpouts for the Facilities.  Facilities not meeting their maintenance requirements are easily identified, allowing FOG Program staff to focus enforcement and inspection activities on those facilities not in compliance.
How it works: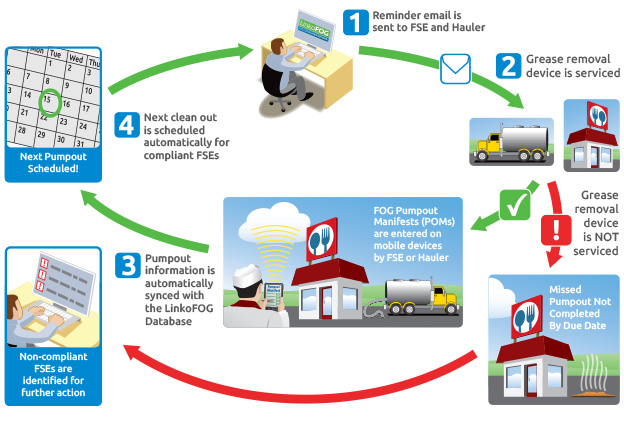 You can now use Linko to focus on Facilities not meeting their maintenance requirements
Features:
Automatic reminder sent when a pumpout is due or late
Electronic submission of pumpout manifest
Real time access to submissions in LinkoFOG
Automatic email confirmation sent upon manifest submission
Next pumpout is scheduled automatically
Depth of grease, solids and water can be submitted by hauler
Automatic calculation of 25% rule
Immediate email notification for critical issues observed by hauler (if trap is broken, evidence of grease seepage, etc.)
Cradle-to-grave tracking
Benefits:
It saves the Authority personnel time by:
Eliminating paper manifest data entry
Reducing the amount of inspections you need to perform
Reducing the burden of tracking pumpouts due, complete or missed
Allowing you to focus attention on Facilities not meeting maintenance requirements
See who hasn't been pumped and work with them without leaving the office
Not only benefits the FOG program, wastewater treatment plant and utility staff, but the Facilities and Haulers!
What's in it for the FSE?
Get email reminders to have trap serviced.
Receive confirmation email that manifest was received by Authority.
Online web or smart phone data entry is easier than sending hardcopy or fax.
Fewer inspections means fewer disruptions to their businesses.
What's in it for the Hauler?

Back to Top